David Lammy wants fathers named on birth certificates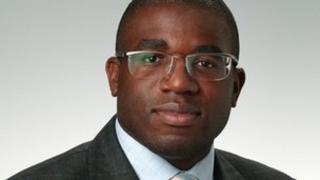 An MP has backed a campaign urging the government to ensure children born to unmarried parents have their father's name on birth certificates.
David Lammy, MP for Tottenham, said his father had walked out on the family and he felt the absence "acutely".
Campaign group Fatherhood Institute said 45,000 children every year do not have their fathers on the register.
The government said it is looking at "options to encourage fathers to record their names on the register".
Currently, a mother's name is recorded on an original birth certificate.
But a father's name is recorded if the mother agrees to it.
If the parents are unmarried the father has to be present and the mother has to consent to his signing the birth register.
'Learn to shave'
Mr Lammy said: "On Father's Day, we should celebrate the work and importance of dads. I, like a lot of young men growing up, really missed my dad, who walked out on us.
"I missed someone help me learn how to shave, someone help me learn how to do up my tie, someone to talk to in those teenage years that can be so difficult.
"No-one there on Fathers' Day, no-one at the end of the football game that you were playing, all of those things where the absence of the father is felt acutely.
"Of course relationships break down but active fathers make a huge difference to the lives of young people."
He added that there were exemptions where the mother was a victim of rape or domestic violence.
Adrienne Burgess, joint chief executive of the Fatherhood Institute, said: "Requiring both parents to sign the birth certificate sends out a powerful message that our expectations of mothers and fathers are equal.
"Meanwhile, 45,000 children every year are losing out because they do not know, and often never will know, who their father is."
In 2009 the Labour government introduced a legislation to make way for joint registration, but the current government has not implemented it.
The Home Office said: "We believe that fathers should have a role in children's lives from the outset.
"The prime minister has asked the Home Office to look at options to encourage fathers to record their names on the register.
"The options range from strengthening guidance to registrars to make clearer to mothers that the expectation is that the father's name should always be recorded on the register, to legally requiring parents to both sign the register with proper protections where necessary - in cases of abuse/domestic violence."