Tower Bridge Olympic rings hoisted in place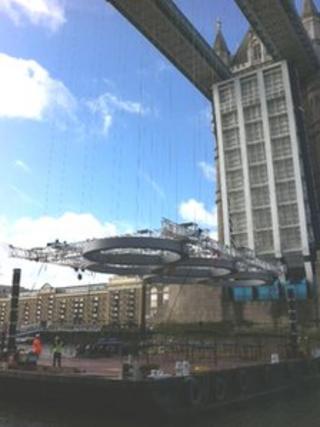 A giant set of Olympic rings has been hoisted into position at Tower Bridge in London.
The 25m wide and 11m high aluminium structure is retractable to allow tall ships to pass under the bridge.
But the rings will not be suspended from the bridge until later this month.
Port of London Authority said the central arch of the London landmark was closed to road and river traffic from 04:00 BST until 09:30 BST.
A set of the colourful Olympic rings and a set of the Paralympic Agitos will be suspended from the bridge until the end of the Paralympic Games, the Greater London Authority said.
Another set of Olympic rings was unveiled at St Pancras International Station in March last year.