London 2012: Legacy chief to stand down after Games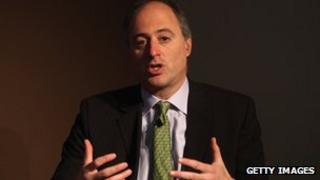 The chief executive of the London Legacy Development Corporation (LLDC) is to leave his post with the future of the Olympic Stadium still uncertain.
Andrew Altman was appointed three years ago and tasked with finding a legacy for the stadium and other Games venues.
He will leave on 15 August. He said the job had been a "tremendous honour".
The future of the stadium is not yet clear, with the bidding process for tenants having had to be scrapped and relaunched due to legal challenges.
Mr Altman said: "It has been a tremendous honour to lead this once-in-a-lifetime project that will transform the face of London and will be a spectacular example of city building the world over.
"I am proud to have been able to set the table with a clear vision, resources and commercial investment. It is now the perfect time to transition the project to one focused on construction, so there will be no disruption after the Games in implementing the legacy vision we have crafted."
During the recruitment process to find a replacement, Olympic Delivery Authority (ODA) chief executive Dennis Hone will make himself available part-time on an interim basis.
Daniel Moylan, the incoming LLDC chairman, said: "Andy Altman has made a huge personal contribution to the future of the Olympic Park and we thank him for putting us in such a strong position."
In March, the LLDC, which was then operating as the Olympic Park Legacy Company (OPLC), confirmed four bids from firms wanting to become tenants of the Olympic Stadium were being considered.
West Ham United, which won the now-disbanded process to move to the stadium in Stratford after the London 2012 Games, is one of the bidders.
Essex County Cricket Club has also submitted an application.
West Ham United has applied for a 99-year lease of the stadium, which is reported to have cost £486m to build.
In May, the LLDC said it was extending the deadline for submitting bids by eight weeks to ensure the process was "as competitive as possible".