Unprecedented bid to avert London Olympics bus strike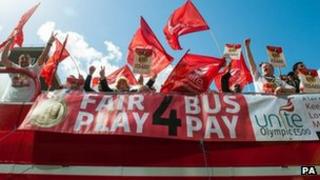 It was as sudden as it was unexpected.
Today London Mayor Boris Johnson announced an extra £8.3m would be given to the bus companies if they sorted out the £500 Olympics bonus dispute with their drivers.
I have watched strikes for years and they normally follow a set pattern.
This was something unprecedented. The mayor has intervened. Not directly in the dispute, but he's put his oar into the murky waters of the deal itself.
He has persuaded the Olympic Delivery Authority (ODA) to part with more money to grease the wheels.
Just last week Olympics minister Hugh Robertson said the contingency could not be used for industrial disputes. It seems there has been a change of heart.
What I have been told is Transport for London (TfL) approached other mode operators including Serco on the DLR many months ago about the cost of running extra services during the Games.
TfL asked the ODA for £93m. But insiders say bus companies didn't think there would be an extra cost for the services they'd have to put on.
That seems incredible considering the Unite union has been talking about the £500 driver bonus for months. Either the bus companies did not take the threat seriously, or they did not have adequate planning, or they chose to ignore it or thought TfL would sort it out.
None of the options leaves them covered in glory.
So what now? Will it be enough? Are the unions on the back foot now? What will the train companies think considering some of them have forked out on bonus deals from their own coffers?
Certainly now TfL and the mayor have intervened in this way, the unions will want them to be even more involved. Is there time to avert the strike? At the moment it's still on.
Let me know your thoughts.