Ukraine Olympic official expelled over 2012 ticket offer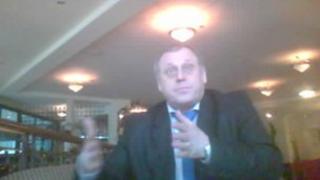 A senior Ukrainian Olympic official filmed by the BBC offering 2012 tickets for cash has been expelled by his country's National Olympic Committee.
Volodymyr Gerashchenko, general secretary of the Ukrainian NOC, told a reporter posing as a UK tout he would have as many as 100 tickets to sell.
A commission established by the NOC found he had "grossly violated the basic principles of Olympism".
Mr Gerashchenko resigned last month after the report was broadcast on TV.
A statement on the NOC website said Mr Gerashchenko would be excluded from the organisation for "violation of membership obligations".
Acting on a tip-off, the undercover BBC London reporter posed as an unauthorised ticket dealer from the UK.
He spoke to Mr Gerashchenko who confirmed he would be prepared to sell tickets.
Mr Gerashchenko had been head of Ukraine's National Olympic Committee since 1997.
It is a criminal offence, punishable by fines of up to £20,000, to sell London 2012 tickets to touts.