Met Police Commissioner's absence from meeting criticised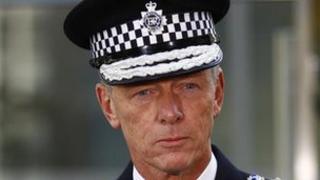 The Metropolitan Police Commissioner Bernard Hogan-Howe's absence from a London Assembly Police and Crime Committee meeting has been criticised.
Committee chairwoman Labour assembly member Joanne McCartney said eight minutes before the meeting an e-mail told them he would not be attending.
She blamed Stephen Greenhalgh, deputy mayor, for advising Mr Hogan-Howe against attending the meeting.
The mayor's office said only the deputy mayor is obliged to go to the meetings.
The commissioner had been asked to provide information on a range of issues, including investigation of rapes, public order policing, the operational use of Tasers and policing the Diamond Jubilee.
'Transparent and accountable'
Ms McCartney said: "When the new arrangements for policing in London were established, the then deputy mayor for policing and crime said that it would be inconceivable that the commissioner would not accept an invitation to appear before the Assembly.
"Sadly, today, his successor has prevented London's elected representatives from hearing directly from the capital's chief of police.
"It is inconceivable that the commissioner would not have important information to share with the committee.
"We are committed to the transparent and accountable operation of policing in London; we hope the Deputy Mayor for Policing and Crime will come to share that objective. He failed today."
A spokesman for the commissioner refused to comment and said the mayor's office were dealing with the issue.
A spokeswoman for the Mayor of London's office said it has been a few weeks since Mr Greenhalgh has taken over the role and he wants to implement some changes.
"The Mayor's Office for Policing and Crime welcomes scrutiny to improve performance and as such, are making meetings more transparent by holding monthly challenge boards with the Deputy Mayor and the Met Commissioner, in addition to the Policing and Crime Committees (PCCs).
"The Deputy Mayor attends all PCCs."
She added that the committee could invite any person they wanted but only the deputy mayor or the mayor was obliged to attend the meetings.