Anger and daftness amid Olympic bus strike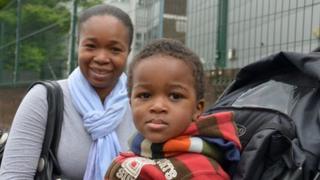 The British are, of course, world leaders in queuing.
Yet tempers were distinctly frayed as dozens of people mobbed a single bus stop in Hackney, east London, at the height of the Olympic bus strike.
Drivers are demanding a £500 bonus for working during the Games - and public sympathy seemed in short supply.
Tina Hollingdale, 33, a full-time carer, said: "They would all be going to work anyway - the Olympics won't make any difference.
"None of us are going to get a bonus for working during the Olympics."
It would be an exaggeration to describe the scenes in Hackney as "travel chaos", to use that hackneyed phrase.
But many did face lengthy delays.
Clifford Kendrick, 52, unemployed, who waited half an hour for a bus, said: "I wouldn't have even bothered coming out if I'd known it was going to be like this."
And then the 253 bus arrived, precipitating what resembled a medieval game of football between two villages riven by a particularly deep-rooted animosity.
Amid a flurry of expressive hand-gestures the crowd was slowly absorbed by the bus, as if by process of osmosis.
Mother Djany Bienaine, 28, and her two-year-old son Jayden were left behind.
In truth, Jayden looked a little miffed. His mum was altogether more sanguine, but reacted with shock on hearing the reason for the strike.
Jovial atmosphere
"£500 just for going to work?" she exclaimed. "They are asking too much. I don't think they should get money for that."
The atmosphere could not have been more different at the major bus depot on nearby Mare Street, where a picket line was in operation.
As is often the case during strikes, the break from routine had produced something of a jovial atmosphere.
"They're taking your photo mate," one worker light-heartedly shouted to his colleague on spotting the BBC.
The resulting pose was unusual, but there was no doubting the ire of the drivers.
They point out that workers on the Heathrow Express, Network Rail, Docklands Light Railway, London Overground and London Underground have already been offered bonuses.
But quotes were not to be forthcoming. "I'd love to tell you how I feel," said one driver, "but we're not allowed. The union organiser will be here at 12.30 and he can talk to you."
Some public backing
Yet some members of the public did back them.
Ahmed Adan, 28, unemployed, who had waited 20 minutes for his bus, said: "If they are workers asking for more money they should get it."
If there was one winner from this dispute, it was surely the independent barista from Climpson and Sons coffee roaster, selling cups from his roadside stall.
After all, there were 50-odd strikers standing around in yet another of the cold snaps this "summer" has served up.
But no. "Drivers prefer coffee of the golden arches," he said a little resignedly. And there was the proof: a pile of empty McDonalds' coffee cups in a waste bin, Unite union's strike leaflets fluttering gently in their midst.
Actually, there was one other winner.
A dog walker and regular customer of the coffee stall, on being told of the strike, remarked lightly: "So no buses today? How lovely."