Crossrail station 'would boost west London by £690m'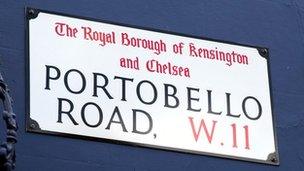 A Crossrail station in the borough of Kensington and Chelsea could boost the west London economy by £690m, a new study has claimed
The Crossrail line, currently under construction, will run from Maidenhead in the west to Shenfield in the east, stopping at 37 stations.
The report, by economic analysts Regeneris, said a station in west London could create 2,000 jobs.
But Transport for London said vital criteria still have not been met.
The report's authors singled out the old Kensal Gas Works for the station.
It sits on 67 acres of prime land in the heart of west London.
Chris Paddick, of Regeneris, said: "Quite a big part of the benefits are what Crossrail enables to happen right here.
"The building of new homes, building of new business spaces, creating new jobs, and additional spend into the local economy."
Kensington and Chelsea Council wants an extra station at Portobello and it has pledged £33m towards the project.
But any station would need approval from both Transport for London and the Department for Transport.
Councillor Sir Merrick Cockell, of Kensington and Chelsea Council, said: "We've covered the cost.
"The problem is they want to model every single possibility on the track."
Howard Smith, TfL's chief operating officer for London Rail, said: "It would need not to increase the costs of the overall project.
"It mustn't delay Crossrail because that's very important.
"And it would also have to be capable of being built and operated without making Crossrail unreliable - or the other trains that run in and out of Paddington."
Related Internet Links
The BBC is not responsible for the content of external sites.