Festival in riot-hit Tottenham cut over funds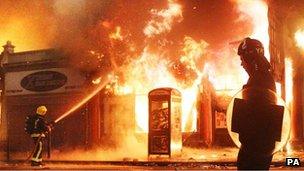 A festival aimed at bringing Tottenham together after last summer's riots has been cancelled at the last minute because of a lack of funds.
The north London neighbourhood was at the centre of widespread looting and arson after violence erupted there last August.
Up to 30,000 people had been expected to attend the event, in Tottenham's Bruce Castle Park.
However, a small carnival parade still took place.
Organisers managed to raise £52,000 of a target of £70,000 for the festival from private sponsorship.
They said they had subsequently appealed for £18,000 from the Mayor of London Boris Johnson to make up the shortfall, hoping to recoup some of that by selling food and drink.
However, money from City Hall was not forthcoming.
Nicky Price, chairman of the organising committee, said: "They were supportive verbally.
"But I would have liked to see a little bit of money coming along."
Mr Johnson's office said the mayor is working with various community groups in Tottenham as part of the wider £41m regeneration of the area.
His officials added he has been supportive of this event, and shares the disappointment that it cannot be of the size organisers wished.
Local MP David Lammy, Labour, said: "This is a year in which Tottenham needs all the support it gets.
"I have to give some credit to the mayor though - he is helping with regeneration."
Related Internet Links
The BBC is not responsible for the content of external sites.