Nine police stations may close in London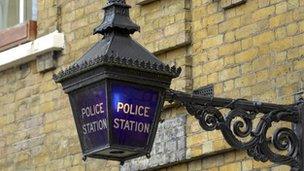 Nine police stations may to be sold off by the Metropolitan Police in an effort to save money.
Barking, Sidcup, Willesden Green, Orpington, South Norwood, Ealing, Highbury Vale, East Ham and Richmond stations are under threat.
The Conservatives say many stations are inefficient or underused - but Labour pointed out some police counters are overly busy.
A firm plan on which police stations are to close is expected by the autumn.
Mary MacLeod, Conservative MP for Brentford and Isleworth, said: "We don't know yet whether they're going to close or not.
"This [review] is overdue, because we do have 800 buildings on the police estate and many of them are under-utilised, inefficient, not suitable for modern-day policing."
But Emily Thornberry Labour MP for Islington South and Finsbury, said: "Whenever I have gone into Islington Police Station there has always been a queue.
"If the other police station closes I think there will be a great deal of opposition to it."
Some police station front counters, which on average deal with five people a day, may also close under the plans.
Before the election, the Mayor Boris Johnson said that if one closed another would open, maintaining the current level of 136.
Now he is saying each of the capitals 32 boroughs will have at least one open 24-hours-a-day.
Stephen Greenhalgh, London's deputy mayor for policing, said: "The things that make sure they work well operationally - the computer systems, the infrastructure - is very poor.
"And that's where the real issue is, not the front counters."
John Tully of the Police Federation said closures would have little impact on officers.
"Our concern is for the members of the public," he said.
"I hear from correspondence we get that the public would rather see police stations remain open."
A Metropolitan Police spokesman said: "The way in which people contact public services has changed and police are responding to this new reality.
"We are in a difficult financial environment but this is not about providing less - it's about directing our resources to improve the service we provide to the public."
Related Internet Links
The BBC is not responsible for the content of external sites.