More bus strikes if no bonus deal agreed, warns union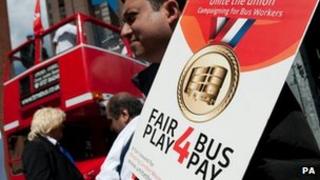 London bus workers will stage further strikes unless there is a deal over bonuses for Olympic working, a union leader has warned.
Drivers at 17 bus companies staged a 24-hour walkout on Friday in a claim for a £500 bonus.
Three bus companies were exempt from the action after they obtained a High Court injunction on Thursday night.
Unite general secretary Len McCluskey called for a "fair and sensible" solution.
He told Unite's national policy conference in Brighton: "This is a straightforward dispute about fairness, giving hard-working bus workers the same bonus for facing challenges that have already been awarded to other transport workers, and a fraction of the bonuses being paid to Transport for London bosses.
"I say to Mayor Boris Johnson and the rest of the bus companies, 'Sort it out or more strikes are inevitable'."
Mr McCluskey said the court injunction had been granted on "spurious" grounds.
Unite is waiting to see the reasons for the injunction being granted before announcing its next move.
The union estimates it would cost £14m to provide a £500 bonus for every bus driver.
Deals have been announced giving workers at Heathrow Express £700, Network Rail £500, Docklands Light Railway £900, London Overground £600 and London Underground at least £850, Unite said.
On Friday TfL commissioner Peter Hendy said the union had "pursued this unnecessary course of action despite an extra £8.3m being brokered by the mayor that would allow every bus driver in London in a garage where one or more routes were affected by the 2012 Games to gain, over the 29 days of the competitions, about £500".