Crowd-sourcing used to trace London riot suspects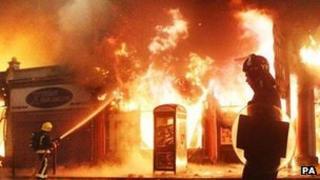 The Metropolitan Police is hoping to use crowd-sourcing to identify people suspected of committing crimes in last year's riots in London.
Officers are to upload up to 2,800 CCTV images taken during the disorder in August on to its smartphone app.
The free Facewatch ID app then allows users to sort the photographs by postcode.
The app then allows users to inform on people they see on it by sending a name and address to the officers.
Assistant commissioner Mark Rowley, head of specialist crime and operations at Scotland Yard, said: "This is a great opportunity for the public to help us fight crime and bring those who remain outstanding to justice.
"My hope is that the two-thirds of Londoners who own smartphones will download this app, and help us identify people we still need to speak to.
"We need Londoners to browse through the app every week or so as new images will appear regularly. This is a fantastic way for Londoners to help us to fight crime."
Almost 3,000 people have already appeared in court on charges relating to the riots in London and other areas including Bristol, Birmingham, Reading, Kent and Manchester last year.
The disorder erupted following a protest in Tottenham, north London, on 6 August after 29-year-old Mark Duggan had been shot dead by police two days earlier.
The app will also include a further 2,000 images of people wanted by the police for offences not connected to the riots.