Midwives fear safety risk in London's 'nappy valley'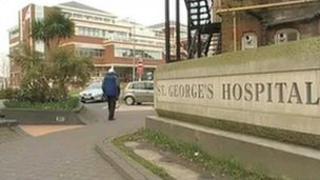 Maternity staff at a hospital in south London have raised safety concerns about patients in "nappy valley" if the number of senior midwives is cut.
A consultation has just ended at St George's Hospital in Tooting, which local MP Sadiq Khan said serves an area with one of the highest birth rates in London, giving it its nickname.
Nine full-time positions could go.
The trust says it needs to save money and attempt to provide the recommended one midwife per 28 patients.
Forty-one senior midwives from St George's have written to Teresa Manders, head of midwifery at the hospital, to say a lack of senior staff would compromise safety.
In particular, they are concerned by a cut to "senior frontline support" on the hospital's ante and postnatal wards and low-risk birthing unit.
'Complex' cases
Sadiq Khan, Labour MP for Balham, Earlsfield, Furzedown, Tooting and Wandsworth Common, said it was a threat to "nappy valley".
He said: "St George's staff are seeing an increase in the number of 'complex' maternity cases, and additional pressure is likely to come to bear on the maternity unit if St Helier's closes down - this isn't the time to be culling experienced frontline specialist staff."
According to the Office for National Statistics, Wandsworth, where the hospital is located, was the London borough with the third highest number of births in 2010 with 5,546.
Nearby Merton, which St George's Hospital also serves, had 3,523 births in 2010.
In a consultation document Ms Manders wrote that the recommended ratio of midwives to patients is generally accepted as 1:28, but that a review had shown St George's current "skill mix" was "richer than required".
There are currently 55 band 7 or senior midwife posts.
There are more than 5,000 deliveries per year at St George's, according to a hospital spokesman.
Ms Manders said: "Most trusts have had only one band 7 per team as team leader in community for some years. This makes the trust's midwifery staffing very expensive."
A greater range of pay grade levels is being aimed at.
But the senior midwives pointed out that hospital bosses decided to increase their number in the ante and postnatal wards in an attempt to raise standards after a review from the Care Quality Commission in 2009/10.
Ms Manders said it was not anticipated that any member of staff would be made redundant as a result of the proposals.
The consultation says that after an interview process, those who are not allocated to their "preferred area" will be offered an alternative clinical area, or if posts are available, demoted.
A spokesman for St George's Healthcare NHS Trust added that about £2m would be invested to maintain a safe service.