Radwan Uddin dies after hit-and-run collision in East Ham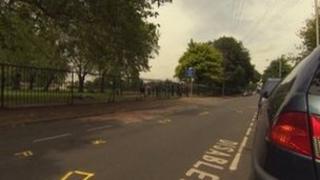 A nine-year-old boy injured in a hit-and-run incident in east London has died.
Radwan Uddin was taken to hospital with head injuries after a silver Mazda 3 collided with him and his brother, who were on a bike, on Tuesday in Woodhouse Grove, East Ham.
The Metropolitan Police said Radwan died at 15:00 BST on Wednesday. His brother Mahfuj, 12, has minor injuries.
A 21-year-old man was arrested after handing himself in to police.
He was held on suspicion of dangerous driving, failing to stop after an accident and grievous bodily harm.
The man has been released on bail until August.
Police said the boys were riding one bicycle, with Radwan on the handlebars, when they were hit.
The vehicle then immediately collided with a parked car before the driver and passenger made off on foot.