Bus driver protests over Olympic Games bonus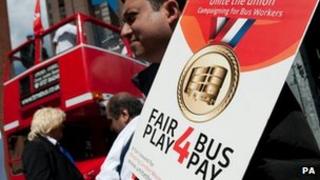 Bus drivers involved in a dispute over an Olympic bonus payment have protested outside depots, disrupting services.
The employees claim they deserve a £500 bonus for working during the Olympics.
Several depots across the capital were affected by the sporadic demonstrations, including Waterloo, Holloway Road and Tottenham.
One of the protesters said buses were being disrupted by the action. Transport for London condemned the action.
A spokesman said: "Protesters at five bus garages caused disruption to 33 bus services this morning.
"Metropolitan Police were called in each case and all buses have now resumed passenger service."
He continued: "The payment of bus staff for the Olympic and Paralympic Games is a matter for the private companies who employ them.
"Any disruption to transport services for Londoners is simply deplorable especially in circumstances where the employers' offer has not even been put to the bus workers themselves."
There were also reports of protests in Stockwell and Cricklewood, with buses reportedly prevented from leaving the depot.
"It's an absolute disgrace those offers weren't put to the members."
The Unite union could not be contacted for comment.
Bike hire 'agreement'
Meanwhile hundreds of workers employed on London's bike hire service are set to receive a £500 bonus for working during the event.
The Community union said its members would also get improved overtime payments in recognition of increased workload.
Terry Pye, national officer of Community, said: "We believe this is a fair offer that all staff at the company can benefit from.
"It has been achieved entirely by negotiation and without the need to resort to threats of industrial action."
The workers are employed by Serco.
A Serco spokeswoman said: "Serco has worked constructively with Community as the recognised union at Barclays Cycle Hire Scheme over a number of months.
"Following consultation with them over working arrangements and the terms for recognising and rewarding our staff over the Olympic period we are pleased to have reached this agreement."
The Rail Maritime and Transport union said it had not reached an agreement with Serco the company for its members.