Amy Winehouse's boyfriend Reg Traviss in rape charge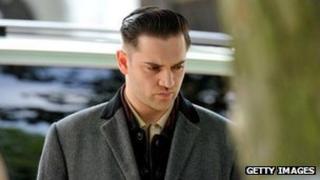 The former boyfriend of singer Amy Winehouse has been charged with two counts of rape.
Rebecca Mundy, lawyer in the CPS London rape and serious sexual offences unit, confirmed she had authorised police to charge 35-year-old Reg Traviss.
The offences are alleged to have taken place between 29 December 2011 and 1 January 2012.
Mr Traviss is due to appear at Westminster Magistrates' Court on 17 July.
The singer died in July 2011 at the age of 27.