London 2012: More demonstrations in Olympics bonus row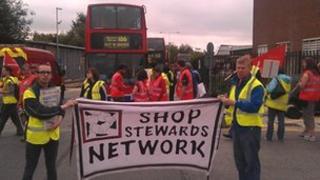 London bus drivers have staged more demonstrations over Olympics bonuses.
At least 40 routes were disrupted from bus garages in Edgware, Westbourne Park, Willesden, Brixton, Garston and Alperton during rush hour.
Drivers at 17 bus companies want a £500 Olympic bonus in line with that being paid to other transport workers and have planned two strikes.
Transport for London (TfL) has said it is an issue between the bus companies and the unions.
'Keep London moving'
Some buses were prevented from entering and leaving garages.
Leon Daniels, managing director of Surface Transport for TfL, called the disruption "simply deplorable".
He said the Unite union had not even offered its members the £8.3m brokered by the Mayor from the Olympic Delivery Authority (ODA).
He said: "It is negotiation between the employers and union that is required to settle this dispute, not cynical action that disrupts the journeys of hard working bus passengers."
The Unite union has said workers will go on strike on 5 and 24 July - three days before the opening ceremony.
The first day of action, on 22 June, disrupted thousands of passengers.
A Unite spokesman said the union wanted due recognition for the extra work the Olympics will bring.
He said: "Unite will be at the conciliation service, Acas, first thing on Monday morning ready to negotiate."
A statement from bus company Metroline on behalf of London's bus operators said they were prepared to meet on the grounds Unite was "serious".
It said: "We have made offers to provide a bonus, even though we receive no additional funding for operating our regular services during the Games."
Meanwhile, action planned by RMT union Tube workers on the Piccadilly Line for Sunday has been called off after an unrelated dispute over job conditions was settled.
RMT General Secretary Bob Crow said assurances had been secured over "earnings, grading, career progression and union facilities".