Rough sleepers in London rise by 43% in one year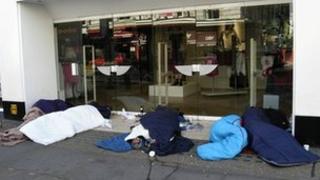 The number of people sleeping rough on London's streets has gone up by 43% in one year, a homeless charity has said.
Broadway said 5,678 people slept on the streets between March 2011 and April, up from 3,975 the previous year.
New rough sleepers also rose by 70%, to 3,285. Broadway said the figures were a "concern for everyone" while charity St Mungo's said the rise was "startling".
Mayor Boris Johnson who had pledged to end rough sleeping by the end of 2012 said "we need to redouble our efforts".
The figures are based on information from outreach teams working in London and a database commissioned by the Greater London Authority.
'Huge challenge'
The study found that 2,696 (70%) of the new rough sleepers spent only one night on the road and outreach teams were able to move 1,014 people into longer term accommodation.
About 28% of rough sleepers were from central and eastern European countries, 658 of the people on the streets were females and 101 (4%) of UK nationals sleeping rough had served in the armed forces.
The charity said outreach programmes appeared to be working, particularly London mayor's No Second Night Out project, launched last year. It helped 1,402 new rough sleepers.
Howard Sinclair, chief executive of Broadway, said the figures "are a concern for everyone".
"The overall level of need shows how essential it is for us all not only to respond swiftly once people lose their homes, but also to turn our attention to preventing homelessness and family breakdown," he added.
Mr Johnson said: "Ending rough sleeping for good is a huge challenge but one that we are entirely focused on tackling.
"Through the groundbreaking No Second Night Out project, around eight out of 10 rough sleepers spend only one night on the street.
"It is clear though that we need to redouble our efforts, which is why we are expanding No Second Night Out across the whole of London."
'Distant dream'
But London Assembly Green Party member Darren Johnson criticised the mayor of being "dangerously complacent".
He said: "The mayor has failed to defend London against cuts to homelessness services, cuts to housing benefits, and a poorly regulated rental sector.
"The tragic consequence of these problems during a recession is more people sleeping rough.
"The mayor's aim of ending rough sleeping is a distant dream if things continue in this direction."