Met Police: 'Clarity' sought over post-Games 'job cuts'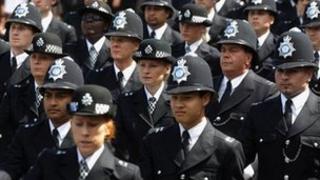 The Metropolitan Police has been urged to spell out what the impact of budget cuts will be after the London Olympics.
BBC Home Affairs Correspondent Danny Shaw said some unconfirmed reports suggested that the Met was planning to cut 6,000 officer posts by 2015.
John Tully, chairman of the Metropolitan Police Federation, which represents rank and file officers, said they needed "clarity and certainty".
The Met has said it needs to find £600m savings by 2014/15.
It did not comment on the prospect of job cuts but said the reductions would be "challenging".
Mr Tully said: "Our greatest fear is what's round the next corner."
There are 31,853 officers in the Met but the BBC understands that discussions are well advanced about how the Met can make savings after the Games.
'More savings'
Reductions in staffing - which accounts for more than 80% of policing costs - are understood to be one of the options.
There have been claims that internal briefings have suggested a figure of 8,000 job cuts by 2015, including 2,000 civilian staff jobs, Mr Shaw said.
A Met spokesman said: "The MPS has made significant budget savings - £201m so far - with plans in place to have delivered £536.8m by 2014/15.
"However, we recognise that more savings need to be found.
"To improve MPS performance and services, while achieving these savings, the MPS is currently designing a plan for how the MPS is structured in future years."
The force said it planned to create 2,000 new neighbourhood policing officers by the end of the year.
The HM Inspectorate of Constabulary will publish its latest assessment of how police forces are coping with budget cuts next week.