Leroy James murder: Teenager found guilty of killing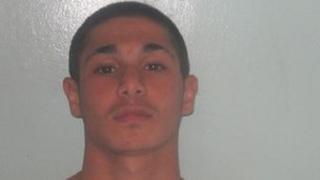 A teenager has been found guilty of murdering 14-year-old Leroy James in north London.
Fifteen-year-old Mustafa Gurpinar was convicted at the Old Bailey by a majority verdict. He was remanded in custody to be sentenced in September.
Leroy was stabbed during a fight in a park in Ponders End recreation ground in Enfield last August.
The court was shown a 12-second video from Leroy's phone of footage of the killing.
In it, Leroy had emptied his pockets, giving a girl his phone before squaring up to the defendant, then 14, as other children egged them on.
The court was told that Gurpinar kept his right hand in a trouser pocket as the pair started to fight.
Moments later, Leroy's white T-shirt became stained with blood after he sustained a knife wound to his heart, the court heard.
The footage ended with a close-up of him lying on his back, moments from death.
'Bad feeling'
Duncan Penny, prosecuting, said: "Whilst he remained on his feet for a few more seconds, soon he fell and his lifeblood ebbed away."
Mr Penny told the jury there had been bad feeling between the boys, possibly about a girl, and others were egging them on to fight.
"To those who were watching, what was expected to be a fist fight transpired to be anything but," said Mr Penny.
Gurpinar had told a friend on Facebook: "If you see me on road... and I have my right hand in my pocket dat means I have a knife."
The trial heard that Gurpinar had called his knife his pet or alligator.
Judge John Bevan told the jury the trial in parts had been "horrendous". The two boys had been "extraordinarily young", he said.
He told Gurpinar that the starting point for his minimum sentence was 12 years.