Mayor urged to help parents with childcare costs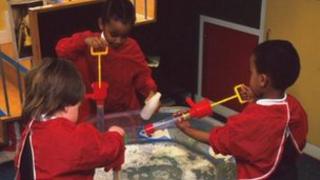 London's mayor has been urged to help parents after a charity said it was harder to find and afford childcare there than in other parts of the UK.
The Daycare Trust says parents spend more than £6,000 a year for a part-time place in a nursery - 20% more than parents in the rest of the country.
It said more than a quarter of children lived in unemployed households.
The Greater London Authority (GLA) said the mayor would continue to tell the government about high childcare costs.
Full-time jobs in London are on average 26% better paid than in the rest of the UK while part-time workers earn 15% more on average, the Greater London Authority said.
London also has the highest average house price at £388,000, compared with £229,000, for the rest of the UK, according to the latest figures from the Office of National Statistics.
The Daycare Trust is calling for more to be done to tackle childcare poverty.
Other findings in its report include:
London families are the least likely to be able to rely on relatives to help with childcare, with just 18% of parents turning to grandparents to help look after their children, compared with 32% of families across the rest of Britain
Take-up of the free early education offer of 15 hours free childcare for three and four-year-olds is lower in London than anywhere else in England, at 87%
Many jobs in the capital require evening or weekend work, however there is very little childcare outside normal office hours available across the 33 London boroughs
Anand Shukla, chief executive of Daycare Trust, said: "Families are being faced with a combination of trends from high childcare prices to a lack of family support, which conspire to prevent London families from accessing the childcare that they need to balance their work and family commitments.
"This report underlines the urgent need for the mayor and London councils to make childcare a priority and tackle this growing crisis."
She said the trust was calling for the mayor to publicise free childcare support available to families and to work with the business community to make London a more family-friendly city.
A spokesperson for GLA said the mayor was working closely with London councils on the impact of meeting free early education for disadvantaged two year olds in the capital.