London's Shard skyscraper rises above its critics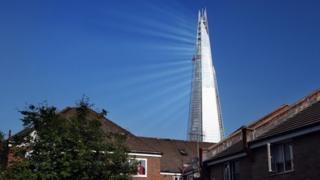 It has been turning heads all over London.
Walking down streets, in parks, even stuck in traffic jams on the M25, people have been watching the steady ascent of a towering landmark on the capital's skyline.
Its 310m (1,016ft) tapering steel structure was topped out in March, with the last few of its 11,000 shimmering window panes fitted in recent weeks.
On Thursday, the Shard's inauguration will be followed by a dazzling light show, during which the skyscraper will fire laser beams at other iconic buildings, marking its new dominance of the London skyline.
Its restaurants and viewing galleries, where - weather permitting - people will be able to see as far as Southend, are not expected to open until February 2013.
But Italian architect Renzo Piano is already keen to convince locals the London Bridge skyscraper is not just another monolithic office tower.
'Vertical town'
"For me, the most important thing is, is it going to be loved in London or not?
"Skyscrapers have to give back to the city more than they get from the city."
He hopes the Shard will be a building Londoners can take possession of, rather than just gazing in awe at its exterior.
The EU's tallest building will have office space at its base, but higher there will be apartments, restaurants and a hotel - though it is perhaps unlikely the average Londoner will be able to afford to sleep there.
A viewing gallery at the summit, however, should prove more accessible and is expected to draw more than a million people each year.
Not everyone is full of praise. Local campaigners Bermondsey Village Action Group co-ordinator Russell Gray said: "It's just a great big pyramid of glass and steel.
"There's nothing intrinsically endearing about it."
But the veteran property developer behind the skyscraper, Irvine Sellar, believes what he calls "the first vertical town in Europe" will have a positive impact.
He said: "People commuting in London Bridge are now seeing a pleasurable experience opposed to the kingdom of darkness that Renzo described was there before."
Facing local critics is just one of many obstacles Mr Sellar has overcome to get the Shard built.
He has also battled through gales, a world financial crisis and a public inquiry.
When he bought Southwark Towers, a rather uninspiring 25-storey office block, in 1998, Mr Sellar says he "had no intention of developing the site".
'Phallic fortresses'
A few months later, a government white paper emerged encouraging development of high-density buildings close to transport hubs.
"That white paper was the first thing that made us change our mind," said Mr Sellar.
His first challenge was to get a world-class architect involved.
Mr Piano may not have been the most likely choice, given he had previously described tall buildings as "aggressive phallic fortresses".
But when Mr Sellar and Mr Piano met in a Berlin restaurant in 2000, the architect flipped the menu over and began to sketch.
Mr Piano said: "I do like the river. I do like the energy from the rail lines.
"I see it as like a giant sail emerging from the river, and so the shape of the Shard was conceived."
Mr Sellar admitted: "If it wasn't through Renzo, I don't think we would have got planning consent."
Southwark Council granted planning permission in March 2002, but shortly afterwards, the building was called in for a public inquiry, with Royal Parks Foundation and English Heritage among those objecting.
A key concern raised was over the view from Hampstead Heath, from where it was feared the Shard would be seen lurking over St Paul's.
'Military operation'
But following six months of deliberations, the skyscraper was declared to be "of the highest architectural quality" and approved.
By 2008, construction had not even started, when the banking crisis stopped the development in its tracks.
"The worst financial crisis in living memory didn't exactly help with the funding," said Mr Sellar.
However, Qatari investors stepped in at the last minute to buy 80% of the equity.
"If it wasn't for the state of Qatar, I don't think we'd have a building like this in London," said Mr Sellar.
With funding secured, the next challenge began - constructing 87 storeys on London clay next to a tidal river in a densely populated area.
"The logistics were like a military operation," the developer said.
"We had to deal with one of the country's busiest rail stations, busy bus routes, two Underground lines, and Guy's Hospital sitting right next door."
With the Shard's shell complete, perhaps its biggest test still lies ahead - finding tenants to fill it, although Mr Sellar remains confident.
"We are being selective - it's a very special building," he said.