Westfield unveils plans for Croydon shopping centre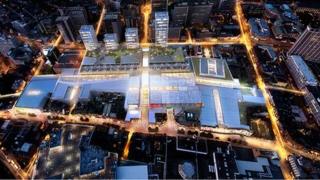 First they headed west.
For London's debut mega-mall, which opened in 2008, White City, on the doorstep of the affluent Notting Hill and Holland Park, was an obvious choice of location for retail giant Westfield's property developers.
It was a shrewd second move to look east.
Next door to the Olympics Park, the regenerated Stratford was chosen for Westfield's second giant London shopping complex. It opened last September and has generated more than £500m in sales.
Now the retail giant has unveiled plans to build its third shopping mall in the capital - in Croydon, south London.
Westfield promises a £1bn redevelopment of the Whitgift shopping centre, which would offer 1.5 million sq ft (0.46 million sq m) of retail space, a multi-screen cinema, a bowling alley and a multitude of restaurants.
An alternative scheme by retail developers Hammerson, which already owns the neighbouring Centrale shopping centre, is expected to be unveiled later this month.
But why Croydon?
With department store Allders, whose flagship store has been the town since 1862, announcing it had gone into administration last month, surely the town's success as a shopping destination is not guaranteed?
In another blow to the town's confidence, in January, confectionery giant Nestle announced it was moving its UK headquarters and 840 jobs from Croydon to West Sussex after more than 40 years.
Riots fund
Independent record store owner Duncan Barnes said: "Croydon used to be very cosmopolitan and thriving. But the rot's been setting in for years and has never been addressed.
"The recession has brought the chickens home to roost. Croydon's now full of empty boarded up shops, bringing the tone of the place down.
"The riots exposed Croydon's shortcomings to the world," added Mr Barnes, who set up his 101 Records store in Croydon in 1973.
Croydon was one of the areas of London worst hit by rioting and looting last August.
In September, it was announced the area would receive £23m as part of a regeneration fund allocated to the boroughs worst affected by the disorder.
'Great location'
Westfield's development director John Burton explained why the firm had set its sights on Croydon, in a scheme he says will create 5,000 jobs and up to 600 new homes.
"It's a great location with good transport links," he said.
"There are huge numbers of people who really should be shopping in Croydon, who aren't because the variety, fun, safety and excitement just isn't there.
"We can create something that will convince people to come back and return Croydon to the top of the ladder."
A Hammerson spokesman explained why he thought his company was more suited to developing the Whitgift centre.
"We have deep experience in redeveloping town and city centres, and can help return Croydon to its rightful place as one on the UK's top retail destinations," he said.
'Abysmal footfall'
Meanwhile 101 Records' Mr Barnes said he approved of plans for regeneration but added: "I don't think Westfield is the right tenant."
His store is based in the Centrale shopping centre, owned by Hammerson and across the road from the Whitgift centre.
"Westfield will not help bring customers to my store. We're over the other side - in a location with abysmal footfall," Mr Barnes added.
"If two opposing landlords own the different shopping centres in Croydon, there will be constant bickering, slowing progress down."
But Mr Burton said the firm's shopping centre plans for south London would attract more people to Croydon, increasing footfall to shops throughout the town centre.
He added that Stratford retailers raised similar concerns before east London's Westfield was built but "Stratford has not been decimated as people predicted."
"The tales of doom, gloom and devastation have not come true," he said.
Back at 101 Records, Mr Barnes, has some heartfelt advice for whichever of the firms is successful in Croydon.
"We're all at the end of our tether," he said. "They need to get a move-on with the redevelopment. Time is running out."
A four-day exhibition showing Westfield's proposal is being held on North End near the Whitgift Centre.