Review for London man jailed in Dubai for fraud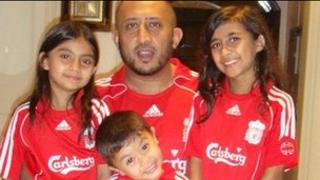 A British businessman jailed in Dubai for fraud has won a long running battle to have his case reviewed.
Safi Qurashi, 43, of Balham in south London, was jailed for seven years in 2010 for writing a cheque which bounced - a serious offence in the emirate.
He claims he is innocent and has finally managed to convince authorities there to re-examine his case. The hearing will take place on 23 July.
His wife Huma Qurashi, 41, said: "We're delighted, all of us."
Speaking to the BBC from Dubai, she said: "All our hopes are high on this."
The development comes after Dubai's Attorney General recommended Mr Qurashi's case be re-examined by the Court of Cassation, which is the equivalent of Britain's Supreme Court.
The family is also fighting two civil cases. Evidence from expert witnesses in those trials, which backed Mr Qurashi, was passed on to the Attorney General.
It is thought that prompted him to send the criminal case for review.
'Been a nightmare'
Mrs Qurashi said her husband's conviction had put enormous strain on her and the couple's three young children.
She said: "It's been a nightmare. For nearly three years it's turned our family upside down. I was a housewife. Safi used to do everything. But now I've had to sort out the business and look after the children as well as fight to get him released."
The couple's eldest daughter Sara, 13, has been determined to help her father. She recently appeared in an emotional online video appealing for his release.
A criminal case review is rare in Dubai. It is thought even the family's lawyers are not sure exactly what form the hearing will take on 23 July.
The family believe Mr Qurashi did not get a fair hearing at the original trial in 2010 and his frustration led to a seven-week hunger strike.
His sister-in-law Hina Qurashi, 36, flew out from London to support Huma after the arrest and has mainly lived in Dubai since then.
She said: "It came to a point where he said, 'Either my next meal is going to be with my family or I am going to come out of here in a box', which was terrible for his wife and children."
He only stopped when he heard about his case being sent for review.