Bloc 2012 music festival shut over crowd safety fears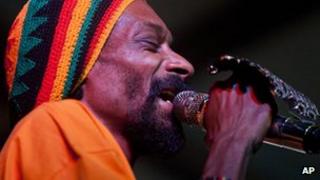 A music festival in east London where rapper Snoop Dogg was due to perform was cancelled due to overcrowding fears.
Police attended the Bloc 2012 event in Pleasure Gardens in the Royal Victoria Docks just after midnight after organisers closed the concerts.
The event had been due to continue on Saturday but organisers have told people it has also been called off.
They will be issuing refund details soon, they said.
'Absolutely devastated'
The annual festival, which celebrates electronic music of all genres, started in 2007, and this is the first time it has taken place in London.
A statement on the Bloc 2012 website said: "By now everyone will have heard that Bloc 2012 was closed due to crowd safety concerns.
"We are all absolutely devastated that this happened, but the safety of everyone on site was paramount.
"Given the situation on the ground, we feel that it was the right decision to end the show early."
But a number of angry festivalgoers took to Twitter to complain, using the #Bloc hashtag.
Snoop Dogg was due to headline the event on Friday, with Orbital the scheduled headliners on Saturday.