M4 closure: Transport Minister says repairs on track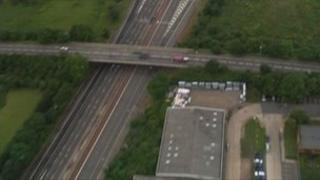 Transport Minister Mike Penning has visited the site of repair works on the M4 in west London and said the motorway is on track to reopen on Thursday.
The crucial road linking Heathrow Airport and central London was closed between junctions one and three on Saturday after a crack was found.
The route will be vital for transporting visitors into the city for the Olympics starting on 27 July.
Mr Penning said plating the crack will begin later but will be "difficult".
'Difficult repair'
The closure of the motorway in both directions between Chiswick and Feltham has led to extra delays on the A40 and M40.
Local roads in Hounslow and Brentford have also been affected.
The roads minister said: "Since the road closure, the new crack that was found in the early hours of Friday morning hasn't grown.
"It was growing while the road was open. The technical experts have shown the plating that can be done to fix it.
"It's really difficult because it's a box section this time, not a straight back weld.
"I'm hoping they will start work on that this afternoon, plating it together, and as predicted right at the start we hope to have it open on Thursday morning."
The route is a major road link from London to the West Country and Wales, as well as being a heavily-used commuter route.
London Mayor Boris Johnson said it was vital the repairs were completed "as speedily as possible".
Just before Christmas, the Hammersmith Flyover - part of the same route in and out of the capital - was closed for five months after structural defects were found.
Click here for the latest London travel information.