John Terry 'angry' over Anton Ferdinand racism claims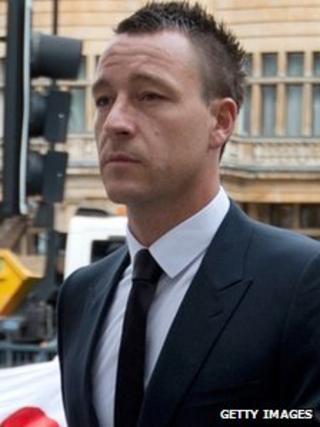 Chelsea captain John Terry has said he was "very angry and upset" at being accused of racism by fellow footballer Anton Ferdinand.
Mr Terry is at Westminster Magistrates' Court over allegations he racially abused QPR's Anton Ferdinand.
He said that, as the pair traded insults, he thought he heard Mr Ferdinand say he had been sworn at in racial terms.
The former England captain says he was merely repeating this.
The 31-year-old former England captain denies a racially-aggravated public order offence.
He said of the subsequent racism accusation: "I was very angry and I was upset."
Mr Terry said that after the match, he asked Mr Ferdinand twice if he had accused him of using a racist obscenity.
"I asked him twice and he said 'no', I thought that was the end of it," he said.
'Frequently' insulted
Mr Terry claims he was sarcastically repeating the words that Mr Ferdinand mistakenly thought he had used.
In cross-examination, prosecutor Duncan Penny asked why, on Mr Terry's account, he had repeated the racial abuse.
"At the time I was shocked and angry," Mr Terry replied.
He continued: "Hindsight's a wonderful thing. At the time I was shocked, I was angry, you can't control your emotions."
But he denied that he had "snapped", with his team struggling in the match and after being insulted.
Mr Terry said he had not considered apologising to Mr Ferdinand because the QPR player had accused him.
"Why would I apologise to Anton when he is the one who accused me? What I said was in response to what Anton said to me," he said.
Mr Penny put it to Mr Terry that insults about his alleged affair with former teammate Wayne Bridge's ex-girlfriend were a "no-go area".
The Chelsea defender said he was "frequently" insulted on the pitch and had "heard it all before".
"It's part and parcel of the game, you just get on with the game basically," he said.
At "more or less every game" he would be taunted about allegations of an affair, he said.
But he would "just laugh it off", he added.
Earlier, the magistrate presiding over the trial rejected a call for the case to be thrown out.
After the conclusion of the prosecution argument, Mr Terry's legal team asked for the case to be dismissed.
Lip reading
But chief magistrate Howard Riddle decided there was a case to answer and the hearing would continue.
The case relates to a comment allegedly made to Queens Park Rangers defender Mr Ferdinand when the teams played last October.
George Carter-Stephenson QC had argued Mr Ferdinand was an unreliable witness and lip reading experts, who had viewed television footage, agreed it was impossible to clarify what was said.
He said the case was "so weak and tenuous it does not warrant it going any further".
In reply, Mr Penny said it was "unlikely" that someone's first reaction to an accusation of racist abuse would be to repeat the same words, which is Mr Terry's defence.
Mr Penny said: "Mr Terry's defence is 'my immediate reaction was to use exactly the same words', not surprise, nothing of that nature, just to repeat the words back.
"You could form the view that is very unlikely."
The court was played an interview between FA investigator Jennifer Kennedy and Mr Terry carried out a week after the game.
In it, Mr Terry said: "I have been called a lot of things in my football career on and off the pitch, but being called a racist I am not prepared to take.
"That's why I came out and made my statement immediately.
"I am not having Anton thinking that about me or anyone else. That's not my character at all."
Mr Terry claimed that when players sign for Chelsea he takes care of them and welcomes them into his home regardless of their colour.
The footballer revealed he is frequently abused by fans and other players over his alleged relationship with Vanessa Perroncel.
"As a footballer you have to take it on the chin a bit," he added.
The court was also told Mr Terry had worked with former Chelsea players Marcel Desailly and Didier Drogba's African charities.
And it emerged the only person who initially complained to police about Mr Terry was an off-duty police officer.
If found guilty, the maximum sentence Mr Terry could receive is a £2,500 fine.
The trial was adjourned until Wednesday.