Traffic wardens in Camden walk out over pay dispute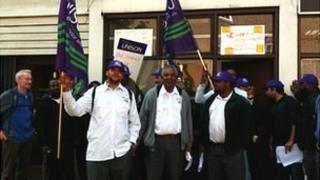 Up to 160 traffic wardens in a north London borough have gone on a 48-hour strike in a row over pay, a union said.
Wardens in Camden who are members of Unison walked out at midnight demanding a 30% rise to their £8.09 an hour pay.
Striking staff include those in enforcement and monitoring CCTV. Unison said £96,000 could be lost in revenue.
Camden council's contractor NSL said the union had rejected a 10% pay rise over three years. NSL has brought in staff from Westminster and Lambeth.
Unison said 63% of members eligible to vote took part in the ballot, 98% of whom backed the strike action.
'Chronically low pay'
The current pay falls 21p an hour below the so-called London Living Wage of £8.30 an hour, the union said. It alos said NSL's three-year deal would mean that in 2015 staff would still be earning below £9 an hour, when the current contract expires.
Camden Unison branch secretary George Binette said: "Despite generating millions in crucial revenue for Camden Council and braving the elements as well as abuse from the motoring public almost every working day, these workers still face the reality of chronically low pay in one of the world's most expensive cities for housing and public transport.
"We are sceptical about NSL's claim that it cannot afford to pay more, but in addition we're calling on Camden's Labour council to translate rhetorical concern for the low-paid into meaningful action."
A statement from NSL said: "It is disappointing that against a background of public sector pay freezes Unison has rejected the offer of a 10% pay rise over three years for its members who will instead forfeit two days' wages to participate in needless strike action.
"NSL have worked with Camden Council on contingency plans that will minimise the impact of the strike, enabling us to provide an effective parking enforcement service to the borough."
NSL said it has staff out on the streets who will focus on road safety and traffic flow, including workers brought in from Westminster and Lambeth to operate tow trucks.
Staff would scan CCTV and issue penalty charge notices, the company warned, but it did not comment on loss of revenue.