Lollipop jobs at risk after Wandsworth Council axes patrols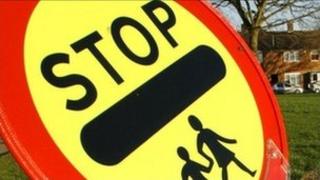 Lollipop staff could lose their jobs as a west London council has decided to axe school crossing patrols.
Tory-controlled Wandsworth Council said virtually all young children were taken to school by parents, while older children were able to cross the roads.
The council estimates the measure would save £200,000 a year.
The GMB union, which represents the workers, called the decision a disgrace and said the council was threatening children's safety.
Christine Blower, general secretary of the National Union of Teachers, said: "This measure will be a step too far for schools.
"Schools can't just magic up money to pay for such a service, especially as their own budgets have already been cut.
"The safety of young children going to and from school should surely be a consideration and priority for the local authority."
But the council said only a third of schools in the borough had a crossing patrol.
It said: "We are now discussing with headteachers and school governors how they can best provide this service in future, if they wish to keep it.
"We are also encouraging parents and teachers to get involved. For those that do, we will provide all the necessary training, uniforms and equipment."