Leyton cafe killer Matthew Quesada jailed for 26 years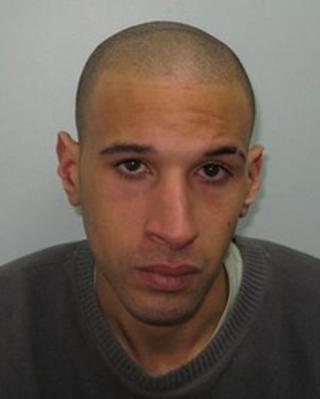 A father who stabbed a man to death in a cafe because he asked whether his crying daughter was "all right" has been jailed for a minimum of 26 years.
Matthew Quesada, 26, was convicted at the Old Bailey of murdering Alan Smith in a "frenzied and wordless" attack.
Mr Smith, 63, was stabbed five times in the east London cafe as "revenge" for asking about the little girl.
Quesada's partner Maria Brigitte was given a nine-month suspended sentence for assisting an offender.
Quesada was convicted after a trial at the Old Bailey in June.
The court heard that in response to Mr Smith's concern over his daughter, Quesada replied: "What's it to do with you? Go away."
As Mr Smith was eager to avoid confrontation, he went with his family from the BB Cafe in Leyton to the nearby Roma Cafe.
Quesada then took his daughter home to his partner before going back with a knife which he used to stab Mr Smith five times.
In sentencing, Judge Peter Rook told him: "You are a very dangerous young man. This was a truly grave crime.
"Your reaction was wholly unexpected and out of proportion. You over-reacted and took this as a slight on your parenting."