Greenpeace hits Shell petrol stations over Arctic oil rush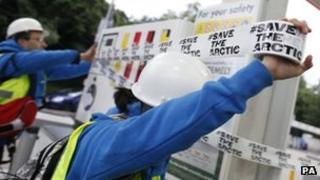 Some 50 Shell petrol stations in London have been disrupted over the company's plans to drill for oil in the Arctic, Greenpeace has claimed.
Activists from the environmental campaign group began using emergency shut off switches to stop petrol going to pumps.
The organisation said it intended to target a total of 105 petrol stations in the capital.
Shell said it had offered to open a "dialogue" with the protesters.
Petrol stations were also disrupted in Edinburgh.
Greenpeace's Sara Ayech said: "The oil giant Shell is preparing, for the first time, to unleash a drilling fleet of huge vessels upon the fragile and beautiful Arctic, home of the polar bears.
"It's time to draw a line in the ice and tell Shell to stop.
"That's why today we're going to shut down all of Shell's petrol stations in the capital cities of London and Edinburgh."
She continued: "An oil spill in the Arctic would be catastrophic for wildlife such as walruses and whales, and Shell knows full well that it would be impossible to clean up after such devastation.
"The Arctic must be saved, and made a global sanctuary where oil drilling is banned."
The charity claimed to have closed down petrol stations at locations including Old Ford in east London, Fulham Cross in west London, and Hornsey in north London.
A spokesman for Shell said: "We respect the right of individuals and organisations to engage in a free and frank exchange of views about our operations.
'Views respected'
"Recognising the right of individuals to express their point of view, we only ask that they do so with their safety and the safety of others, including the general public and Shell personnel, in mind."
He continued: "Shell has met with numerous organisations and individuals who oppose drilling offshore Alaska - we respect their views and value the dialogue.
"We have extended this same offer for productive dialogue to Greenpeace."
Four people are reported to have been arrested in London.