Afro comb 'penetrated brain' in fatal Battersea attack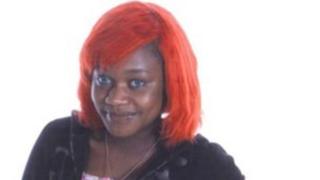 A 16-year-old was murdered in south-west London with a steel Afro comb in a row with another girl, the Old Bailey has heard.
Julie Sheriff, who was originally from Sierra Leone, died on 21 September from the brain injury inflicted last May.
A 16-year-old girl, who cannot be named for legal reasons, denies murdering her.
Jonathan Turner QC, prosecuting, said the tip of the comb penetrated deep into the brain.
The court heard Julie was stabbed in the left temple with the comb after the two rowed about malicious gossip involving boys.
The Hackney resident was in a coma for several months before she died.
'High volume dispute'
Her family had moved to Britain in 2006 from west Africa in search of a better life.
The jury was shown a replica of the black comb with a spiked metal handle.
Mr Turner said a bystander told police he had seen the girl take the comb from a large brown handbag.
He allegedly saw her strike Julie's collarbone without much effect and then plunge it into her skull.
The prosecutor said: "There seems to have been a row brewing between them as a result of malicious gossip, allegations Julie was making about [the girl] and a boy or boyfriends on various telephonic sites."
He said there also appeared to have been a "territorial issue" which turned into a "a high-volume dispute".
The trial continues.