Paloma Faith to donate Twitter profile in riot campaign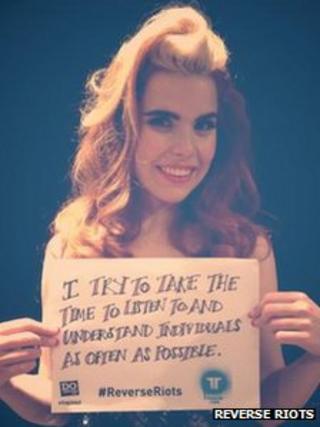 Singer Paloma Faith and 14 other celebrities are to donate their Twitter profiles as part of a campaign to improve the image of young people a year on from the London Riots.
Youngsters are being asked to write a positive message on a piece of paper and upload it to the website of the charity Reverse Riots.
The winners will have the chance to take over the profile of their favourite stars on 6 August.
Plan B and Labrinth are also involved.
The message should share a positive contribution that person makes to society.
A spokesman for Reverse Riots said: "Everyone always wants a re-tweet from a celebrity. This is going one step further."
He said it was a chance to challenge negative perceptions about young people.
Since its launch the campaign has received backing from Prime Minister David Cameron, Deputy Prime Minister Nick Clegg and Tottenham MP David Lammy.