London 2012: MPs call for cyclists to use Games Lanes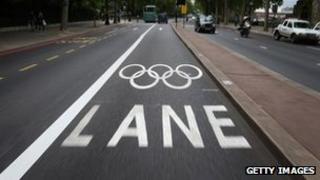 A group of MPs have called for transport chiefs in London to let cyclists use the Olympic Games Lanes.
The 30 miles (50km) of road lanes have been put aside mostly for athletes, VIPs and the media and anyone else using them faces a fine.
Liberal Democrat MP Tom Brake said cyclists should be exempt.
Transport for London (TfL) said cyclists could not use them as they were mainly outside lanes which they would not use anyway.
In the run-up to the Olympics, TfL has called for more people to take up cycling as part of plans to ease congestion on the roads and public transport.
However an early day Commons motion by the MPs said banning cyclists sent "the wrong message about the importance of commuting by bike" and would increase congestion.
The motion has been signed by former Conservative transport minister Sir Peter Bottomley, the Lib Dem deputy leader Simon Hughes, Labour MP Jeremy Corbyn and Lib Dem Andrew George.
TfL said cyclists could not use 95% of the lanes because they were outside lanes which cyclists would not use anyway other than to turn right. However, right turns have been banned on the Games Lanes.
It said of the remaining 5% which were nearby lanes, cyclists could not use two thirds of them because the high speed limits made them too dangerous.
It said one such section was the 70mph section of the A12 as it approaches the Lea Interchange.
The Games Lanes, which start on 25 July, are in operation from 06:00 BST until midnight during the duration of the Games.
However the government has said that if traffic jams are too bad, then the Lanes will be axed to ease congestion.