London bus workers accept Olympics bonus offer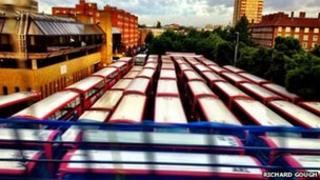 London bus workers have accepted an Olympics bonus payment offered to them and called off strike action.
The Unite union said its members voted to accept £577 in return for working during the Games period.
Thousands of workers went on a 24-hour strike in June and were due to walk out again on 24 July.
Transport for London welcomed the move. The bonus offered by 20 bus firms will give workers an extra £27.50 each time they complete a duty over the 29 days.
On average, staff will work 21 days over the Olympic period.
'International embarrassment'
Representatives of bus companies and the union began talks earlier this month at the conciliation service Acas.
The union had threatened to hold strikes on 5 and 24 July, both of which were abandoned.
Peter Kavanagh, Unite's regional secretary for London, said: "After almost a year-long campaign, bus workers finally have a fair deal which recognises their contribution to keeping London moving over the Olympics.
"Major disruption to London's transport network and international embarrassment in the run-up to the Olympics could have been avoided if TfL (Transport for London) and the employers did the right thing when Unite first approached them almost a year ago.
"Instead, bus workers had to fight tooth and nail to get recognition."
'Biggest festival'
Transport for London's managing director of surface transport, Leon Daniels, said: "We welcome the news that Unite's leadership has accepted this pay deal.
"The pay of bus workers is, and will remain, a matter between them and the private bus operating companies that employ them.
"However in this case, as the capital prepares to celebrate the biggest festival of sport and culture it has ever seen, TfL and the mayor sought to bring Unite and the bus companies together and we are pleased that they have now resolved this dispute."
The union sought £500 for each of its 20,000 members for working over the Games period.
TfL also promised to split extra revenue from the Olympics with bus operating operators, on the condition it was passed on to staff.
Last month London Mayor Boris Johnson announced the Olympic Delivery Authority had offered £8.3m in a bid to avert the strike, which went ahead on 22 June nevertheless.
Bonus deals have previously been agreed for staff at Heathrow Express, Network Rail, Docklands Light Railway, London Overground and London Underground - ranging between £500 and £900.