London 2012: Outrage over artist banned from Olympics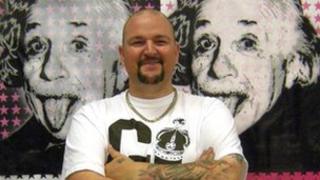 Authorities have "lost the plot" over the Olympics and are needlessly arresting people, according to a human rights lawyer.
Kieran O'Rourke said authorities had a "hyper-sensitivity" over the Games.
His comments come after an artist who had been approached by Team GB to paint the Athletes' Village was arrested and banned from going near Olympic venues.
British Transport Police (BTP) said the arrest was not pre-emptive and it was protecting the Games' "integrity".
Professional artist Darren Cullen, 38, from Kent, was arrested earlier this week on suspicion of inciting to commit criminal damage along with several other people.
He said officers arrested and questioned him over a graffiti website which he registered for a customer several years ago.
"Even if it was my website, what has that got to do with the Olympics? What can I do to the Olympics? I'm not being arrested for doing things on street.
"I'm fuming. I'm not that type of person - it just stinks."
Mr Cullen, who has worked with various companies including official Olympic sponsor Adidas and has received the government's backing over his project to prevent graffiti on trains, said he was released on police bail until November.
He added that he had never illegally painted a wall.
The bail conditions are:
Not to enter any railway system, including the Tube and trams
Not to be in possession of any spray paint
Not to associate or communicate with the other persons arrested and on bail for this investigation
Not to be at or within one mile of any Olympic venue in London or elsewhere in England
Mr O'Rourke, who represented residents in east London who failed in their High Court bid to prevent missiles being stationed on top of their flats, said he was shocked by the arrest and bail conditions.
He said as he represented the residents, he has found that many government bodies and agencies were hypersensitive about anything which might damage the Olympics.
'Selling out'
Mr O'Rourke said of the bail conditions, the Olympics one was not needed as the other conditions prevent him from doing any graffiti damage ahead of the Games.
"This is a really worrying issue," he said, adding that it was a civil liberties issue.
"This is a huge infringement of someone's human rights under the Human Rights Act.
"Are we, in bringing the Games here - which is only a sporting event - selling out on our fundamental British rights?
"The authorities have lost the plot and seem to be saying that the Olympics are so important that people are losing hard fought human rights."
A spokesman for BTP said the arrest was not pre-emptive and that it was part of an ongoing investigation.
He added that a custody sergeant agreed to the bail conditions and that an arrested person could always appeal them.
The spokesman added that the arrest was not speeded up because of the Olympics.
"The investigation was months in the planning and the arrests would have happened either way," he said.
The Association of Chief Police Officers said police officers apply for Olympic bail conditions if they think there is a risk of criminal disruption to the event.