Protest over Barnet Council privatised services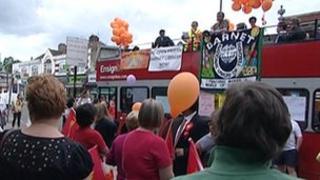 A protest has been held in north London over a council's decision to privatise some of its services.
Barnet Council's One Barnet Programme includes plans to privatise up to 70% of services, residents warn.
They claim that nationally a quarter of such schemes have ended in failure. A protest parade ended in a "celebration of public services" in Victoria Park.
The council argued the programme was necessary due to a reduction in its grant from central government.
Barnet Alliance for Public Services, which organised the event, said a study by the European Services Strategy Unit found 25% of public outsourcing schemes had failed or gone seriously wrong.
'Wide-ranging programme'
A spokeswoman said: "You wouldn't risk buying a car if there were a 25% chance the wheels would fall off.
"So why are Barnet Council risking over £1 billion of our money on the One Barnet Programme?"
A council spokesman said: "The One Barnet programme will allow us to make the necessary savings to cope with a £43m reduction in our government grant while protecting front line services for residents.
"The programme is fairly wide-ranging and includes a lot of early intervention work.
"But the protesters are largely objecting to the outsourcing of back office functions like HR and payroll."