Bradley Wiggins in line for Freedom of Westminster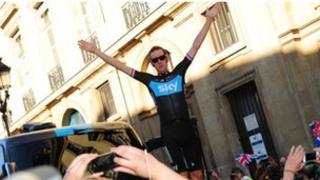 There are calls for Bradley Wiggins to be given the Freedom of the City of Westminster after his historic Tour de France win.
The 32-year-old cyclist sealed Britain's first Tour victory on Sunday and now councillors want to honour him.
He grew up in Maida Vale and used places such as Hyde Park and Paddington Recreation Ground to train in.
A Westminster City Council spokesman said giving Wiggins the award "is something we are keenly looking at".
'Great role model'
Councillor Paul Dimoldenberg, leader of Westminster Council's Labour group, said: "Bradley Wiggins is the most fantastic sportsman and it all started in Maida Vale.
"Westminster City Council should honour this most dedicated sportsman for his achievement as the first Briton to win the Tour de France, as well as his magnificent Olympic medals.
"Bradley Wiggins is a great role model for young people and the council should award this honour in Olympic year 2012."
One of the Maida Vale councillors, Alastair Moss, Conservative, said: "Bradley Wiggins has scored a historic sporting victory and inspired huge pride across the country - no more so than in his home turf of Westminster and Maida Vale.
"Recognising Bradley's outstanding achievement through the Freedom of Westminster award is something we are keenly looking at."
Wiggins now lives in Lancashire.
Previous holders of the Freedom of Westminster include Sir Winston Churchill and Baroness Thatcher.