London 2012: Stiffer sentences possible for Olympic criminals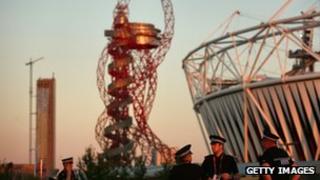 People found guilty of an "Olympic offence" that disrupts the Games could face especially tough sentences, the BBC has learned.
The Crown Prosecution Service revealed that disrupting or damaging the Games could be seen as an "aggravating factor", attracting a stiffer sentence.
The CPS also warned it may appeal over sentences for Olympic-related offences if it felt they were too lenient.
Demonstrators reacted in dismay, claiming it may curtail lawful protest.
The stance was described as "unprecedented" by one legal expert.
The disclosures came in an interview with CPS chief prosecutor for London Alison Saunders.
BBC London asked whether crimes that disrupted the Games could be considered to carry an aggravating factor, given the importance of the Games to the British public and national life. Ms Saunders said this was "possible".
She explained that judges may take a dim view of anyone tarnishing the "whole ethos of the Olympics, and what we expect is going to be the greatest sporting event in this country for a very long time".
Explaining the CPS's position, a spokeswoman added: "If there is an example of something which causes a significant disruption - for example someone disrupting the 100 metre final - that would be seen as an aggravating factor.
"Shoplifting in the West End by a spectator - although [it] might be deemed an Olympic offence - would not necessary have aggravating factors.
"Strong sentences will not be applied to or considered for all Olympics offences."
Ms Saunders went on to say the CPS had been working on the legal definition of an "Olympic offence" to aid its staff.
She revealed courts may also open overnight if there was an influx of Olympic-related cases.
'No logic'
The possibility of increased sentences recalls the response to last summer's rioting, which saw far more custodial terms handed out than usual.
BBC London research showed that 65.3% of London rioters given on-the-spot sentences by magistrates were imprisoned.
That compared with a national average of just 3.9% jailed with an on-the-spot sentence.
Demonstrators reacted with dismay to the prospect of tough Olympic sentences.
Julian Cheyne, of the Counter Olympics Network, which is critical of the Games, said: "It does affect people who want to protest - and frankly it shows stupidity by the authorities.
"If someone was protesting and it disrupted the Games I really can't see why it deserves a stiffer sentence just because it's the Olympics. Where is the logic in that?
"In effect you are saying that if someone was injured in, say, a protest, they will get less justice than someone injured in the Olympics."
Ronan McNern, a spokesman for Occupy London, said: "The authorities want so desperately to be seen to be tough and cracking down on anyone who might be protesting during the Olympics.
"We would like them to be just as tough on the bankers in the middles of all these scandals at the minute, fixing the Libor rate and so on.
"Maybe they should look a bit harder at the records of all the corporate sponsors at the Games."
Dr David Thomas, a criminologist at Cambridge University and one of the UK's leading authorities on sentencing, said: "Let's say someone interrupts the marathon. A judge has to weigh up all the factors and blend them into a sentence.
"It may well be that he might consider the Olympics a factor - millions of people are enjoying it.
"But you can't say it's an established legal principle as it's never happened before."
Dr Thomas added: "I can't think of a single case in which this has happened."
He said there was an "added problem" of what crime to charge people with.
He said: "There is no specific offence for interrupting a bike race or marathon.
"Protesters can be charged with causing a public nuisance, but I am not sure about that."
Dr Thomas pointed out that people who disrupted the one-minute silence during Armistice Day rarely received stiff sentences.
Emdadur Choudhury, 26, a Muslim extremist found guilty of burning poppies at a protest in west London on Armistice Day 2010, was fined £50 for offences under the Public Order Act.
Streakers and swimmers
One man was charged with indecent exposure after a streaker ran naked across the front of the torch relay as it travelled through Henley.
The streaker had "Free Tibet" written on his back and ran a short distance past crowds waiting to see the relay beside the River Thames.
A man accused of halting the University Boat Race by swimming in the River Thames has pleaded not guilty to a charge of causing a public nuisance.
He has been released on bail and is due to stand trial on 24 September.
Meanwhile a man dived headfirst from Tower Bridge in a protest by cab drivers over their ban from using Olympic Lanes.