'Cabbie' dives off Tower Bridge in Olympic Lane protest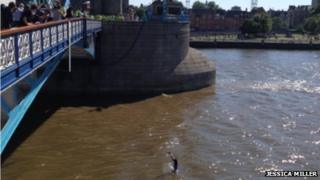 A man has dived headfirst off Tower Bridge during a protest by London taxi drivers against their ban from using Olympics Games Lanes.
The group of drivers travelled slowly across Tower Bridge, tooting their horns.
A man was arrested after jumping from the bridge into Thames.
Last week taxi drivers brought Parliament Square to a halt, claiming they should be able to use the lanes as well as officials and athletes.
The diver, believed to be a taxi driver, was pulled from the river by police. A man had previously contacted media organisations warning he was going to attempt the stunt.
A Metropolitan Police spokesman said: "Around 4pm a man who was taking part in a planned demonstration jumped into the River Thames from Tower Bridge.
"Officers from the marine policing unit rescued the man. He has been arrested for a public order offence."
A photograph posted on Twitter appeared to show the man entering the water headfirst in a streamlined diving position.
One taxi driver then Tweeted: "Please do not leave your taxi unattended! We have reports that one taxi driver has done just that in spectacular fashion!"
A BBC reporter said the man was almost hit by a tourist ferry in the water.
Traffic was again brought to a standstill during the protest, and there was a noticeable police presence.
A BBC correspondent estimated that about 50 cabs took part, with drivers sounding their horns in unison to make their presence felt.
The United Cabbies Group said on Twitter that it was happy with the turnout, which saw about six police vans at the scene.
Leon Daniels, Transport for London's managing director of surface transport, said: "The first taxi protest was attended by a tiny minority of drivers, and they do not represent the views of the vast majority of London's taxi drivers.
"It is a real shame that people who claim to represent some of the honest and most hard-working people in London, the taxi trade, have acted in this way."