Tottenham Court Road siege: Man jailed for office bomb hoax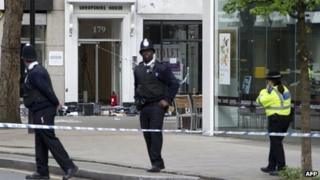 A bomb hoaxer who caused the closure of London's Tottenham Court Road after throwing equipment from the fifth floor of an office block has been jailed.
Michael Green, 48, who pleaded guilty to charges of false imprisonment, making a bomb hoax and destroying property, was sentenced to six years.
His actions in April led to the central London road's closure, buildings being evacuated and Tube stations shutting.
Armed police went into the training firm he had entered to end the siege.
He pleaded not guilty to a count of possessing a prohibited weapon when he entered Advantage Training Services. The prosecution offered no evidence on that charge.
During the siege police put in a 300m cordon, hundreds of people had to leave the area and negotiators were brought in as police attempted to arrest Green.
At the time police were concerned he had explosive or flammable liquids.
Green was sentenced to six years for false imprisonment, three years for making a false bomb hoax threat and four years for destroying or damaging property and being reckless to whether life was endangered.
The sentences are to run concurrently.