Are the Games Lanes working or are motorists confused?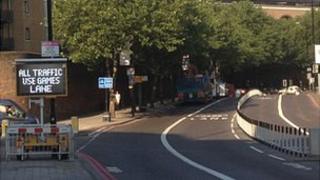 The last time there was such a dramatic change to London's roads was when the congestion charge was introduced in February 2003.
Then, our TV producers at BBC London used tumble weed from the BBC prop department to show how deserted the roads were.
Perhaps we're not quite digging that out again but anecdotally it seems traffic is lower than usual and many drivers are staying away.
Transport for London (TfL) will be pleased if it's true that their messages and advice have got through to motorists.
What that has meant is that while the Olympic Route Network (ORN) is active it is open to everyone but you can't stop on it or turn right and some of the Games Lanes, for use by the Olympic family, are on and some are off.
What TfL is trying to do is show that the lanes are flexible and can be turned on and off.
It is an important point for it to make politically as the lanes are very unpopular and controversial.
TfL wants to show it has listened and it can keep London moving.
The downside is that it is confusing for some drivers - is this lane on or off? Do I risk a £130 fine?
And it seems lots of drivers remain unsure particularly if they missed the dot matrix signs issuing advice.
Leon Daniels, TfL's managing director of surface transport, said people would have to rely on the changing matrix signs to determine whether they could drive on the lane.
But he said people accidentally straying into them would not automatically incur a fine.
He said: "We don't want enforcement, we want compliance.
"Nobody will be harshly dealt with if the Games Lane becomes activated after they pass it."
How has it been for you so far? Let me know.