Met Police officers to keep anonymity in 'Duggan gun' trial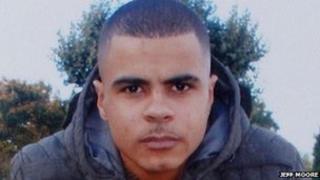 Seven police officers can give evidence anonymously at a trial of a man accused of supplying a gun to the man whose death sparked last summer's riots.
A judge at Snaresbrook Crown Court said the Met officers could give evidence from behind a screen using pseudonyms at Kevin Hutchinson-Foster's trial.
The judge said he made the order to prevent them from coming to harm.
Police believe the weapon used could be the same gun found at the shooting of Mark Duggan on 4 August.
His death prompted rioting in Tottenham, north London, last August which then spread to other parts of London and across England.
The trial of Mr Hutchinson-Foster, 29, is due to begin in September.
The officers are a mixture of firearms and surveillance officers.