London 2012: Stratford not only way into Olympic Park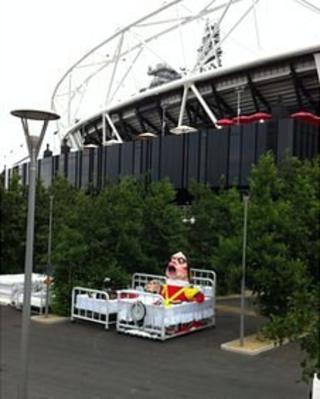 I was lucky enough to get basketball tickets for the first morning of the Games on Saturday.
I decided to try an alternative route into the Olympic Park as most people use the main Stratford entrance.
We got off the Overground at Hackney Wick and made our way through the closed back streets and entered the Park through Victoria Gate but beware leaving through Hackney Wick though as it is exit only from westbound platform from 1pm.
It took about 10-15minutes.
It was then a 15-20 minute walk to the basketball stadium.
If you want to know what the area looked like before the Olympic Park that area shows you.
And it gives you an idea of the transformation that has taken place.
It's still a very industrial, working part of London.
It reminds me of the Marshgate Lane Trading Estate that was knocked down for the Olympic Park.
What is striking, going in that way, is how quiet it is.
I was told only 200 people had used it by 9am on Saturday morning.
Clearly that will change but it's worth looking at the other entry gates to the Park.
Alternative routes
Transport for London is pushing the message that spectators should use the Greenway gate from West Ham - about a 20 minute walk up the Greenway.
I've been told that gate is also very, very quiet.
The East End blogger Diamond Geezer has also put together this handy guide of alternative entry points to the Park.
Let me know how you're getting on... and post any tips.