Metropolitan Police officers praised over river rescue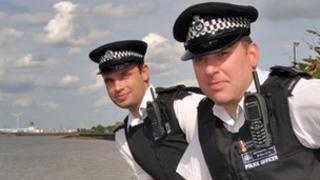 Two police officers have been praised after jumping into the River Thames to rescue a woman.
PC Jason Campbell, 37, and PC Stefen Rule, 34, had been called to Thamesmead to reports of a person in the water on Sunday night.
When they saw she was being carried away, they leapt in, swam 40 metres and pulled her to safety.
The 30-year-old woman was treated at the scene and taken to hospital as a precaution.
Bexley Borough Commander Victor Olisa said: "The selfless bravery of the officers, combined with their calm actions, prevented what could easily have turned into a tragedy.
"I am immensely proud of them."
PC Campbell said: "When we arrived, we could see that the woman was clearly struggling in the water and as we swam towards her she was beginning to disappear under the surface.
"Our priority was to get to her as soon as possible, keep her afloat and as calm as possible until help arrived at the riverbank."