Youth court 'secret garden' reveals 'appalling' delays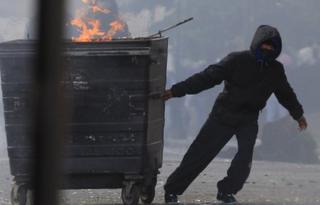 Last year's riots were unprecedented in many ways but not least for the large number of court cases involving youths which were reported.
Some of the most shocking crimes involved juveniles, including the killing of 68-year-old Richard Mannington Bowes in Ealing, west London, by a 16-year-old.
Prime Minister David Cameron talked of "troubled families" and a "moral collapse".
According to the Ministry of Justice, 26% of those who later appeared in court in London in connection with the riots were aged 10-17.
The youth courts, which deal with children aged 10 to 17, are subject to strict reporting restrictions.
The law states that defendants and witnesses cannot be identified by the press. The public is not allowed into court. The media rarely goes.
In 1997 the then Home Secretary, Jack Straw, said this was because the press was "hamstrung to report anything at all". He said the youth court was a "secret garden".
District Judge Jeremy Coleman of Hammersmith Youth Court, says "the garden is not secret, but the names of the flowers are."
A year on from the riots, a snapshot is presented on an average day at Hammersmith Youth Court of what some of our children are doing and how justice is being administered.
Possession of cannabis
A boy with closely shaved fair hair wearing tracksuit bottoms and a navy T-shirt walks into the informal courtroom alone, with neither parents nor legal representation. He pleads guilty to possession of cannabis.
"He made a full admission at interview," says crown prosecutor Doreen Bogle.
"This is a 17-year-old boy. If he was arrested on 11 May, why am I dealing with him on 31 July? Why does it take two months to bring this boy to court?," asks District Judge Michael Snow.
"This is not a question I can answer. This is a problem with the system," replies Ms Bogle.
The judge continues: "They've [the police] got all the evidence, they've got the drugs and he's admitted it. He should have been warned. This is not your fault but I'm expressing my annoyance."
Speaking to the boy, he says: "There are two things that have gone wrong. You should have been given a final warning. You shouldn't be here at all, and it's taken far too long. I'm going to do something I rarely do and give you absolute discharge allowing you to get on with your life."
Asked outside the court why his parents had not come with him, he said: "I didn't want to hassle them. I wanted to get it over and done with."
Asked if he found it scary being in the court room alone, he said: "It definitely makes me feel I don't want to come back."
Possession of stolen goods
A 12-year-old boy who is about 4ft tall walks into the court with his father. He wears a blue and pink checked shirt and Hawaiian print shorts with boating shoes.
He is accused of being found in possession of six items of stolen clothing on 15 February at Euston Square Station in north-west London.
"I've just literally been handed this case," says the prosecutor. "I understand he had a Romanian interpreter at the police station."
No-one has been booked to interpret for his court appearance - already delayed since February - so the case is adjourned until an interpreter can come.
"Delay is an enemy to justice," District Judge Snow says. "This is hopelessly inadequate." Adding that delays increase the chances of children being "traumatised and criminalised".
The boy later pleads guilty.
His father blames the company he is keeping for his crime.
The boy stands with one knee on his chair as the judge explains he is being handed a three-month referral order.
Referral orders lead to a contract of behaviour being agreed with the Youth Offending Team.
Beaten up
A 16-year-old girl wearing jeans and a striped shirt with her hair in a pony tail is in court because she has failed to turn up for a referral meeting. She admits it.
She is with her mother and a friend with whom she is living.
District Judge Snow says: "When you appeared before me in December last year that was for racially aggravated behaviour and assault by beating."
She was given a nine-month referral order for that offence.
Her defence solicitor, Shofna Begum, hands the judge a social services report which explains that in the last few months she has been beaten up by an abusive partner.
She says this and the fact she had to move to get away from him is why she missed her appointment with the Youth Offending Team.
The girl's mother tells the court how her daughter, who was previously doing well at school, had become "unmanageable".
She and her husband sent her to boarding school for a year.
The family called on the help of social services and the girl was placed in an adult hostel.
"She was extremely vulnerable and needed help. She didn't get help," her mother tells the court.
She says she only recently found out her daughter had met a 28-year-old ex-offender who had left her with bruises.
The district judge says he will not give her a more harsh penalty but that she must keep her youth work appointments, adding: "I don't want to make you a criminal".
A Ministry of Justice spokeswoman said the government was committed to ensuring crime was dealt with "as quickly as possible".
She said "digital working" was being rolled out and "unnecessary bureaucracy" removed.
A report from a day at Camberwell Youth Court follows on Thursday.