London 2012: London Bridge rail services delayed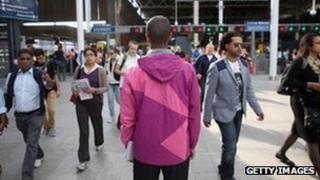 Rail services to London Bridge, one of the hotspot stations during the Olympics, were delayed during the morning rush-hour.
Some passengers were stuck for about 20 minutes outside the station due to "operating problems".
The difficulty, caused by a signal problem, led to delays to services run by the Southern Railway company.
There were also problems at Cannon Street station where a signalling problem meant fewer trains running.
This affected services run by Southeastern.
London Bridge is one of the major Olympic hub stations, dealing not only with arriving commuters in the morning but those leaving to go to Olympic events.
The delays at London Bridge took place from about 08:10 until 08:30 BST.
A Southern Railway spokesman said the delays were caused when a train was signalled into the wrong platform at the station.
The 10-carriage train arrived at a platform intended for trains with eight carriages.
"It meant the train had to be sent back along the track, which caused congestion," the spokesman said.
Reduced traffic
Meanwhile, traffic on London's streets has reduced by around 17% since the Games began as people turn to rail services to move around the capital, Olympic organiser Locog said.
Record numbers of travellers are now using the Docklands Light Railway (DLR) which services Games sites including the Olympic Park in Stratford and Greenwich Park which is hosting the equestrian events.
"TfL has seen journeys up by about 7.5%; the national rail services have seen about a 5% uptake; DLR have seen record numbers, about 65% up, so they have been managing big, big numbers," Paul Deighton, Locog's chief executive officer, said.
"Road traffic in and around central London has been down around about 17%, which means we have been able to be more flexible about opening Games Lanes up to regular traffic, and our objective is to get the Games traffic to its venues on time."
Earlier, there were travel difficulties on the Tube, with a signal failure at Turnham Green in west London resulting in no District line services from Earls Court to Richmond and Ealing Broadway.
Transport for London (TfL) apologised to passengers and advised Olympics spectators travelling to Earls Court for the Volleyball to use the Piccadilly line instead.
"Our engineers are on site working hard to rectify the problem as quickly as possible," a TfL spokeswoman said.
Olympic venues in use on Tuesday include Horse Guards Parade, meaning that central London may be busy.
TfL also said the Tube's Jubilee line would be exceptionally busy in the early evening as events take place at Wembley, Lord's Cricket Ground, North Greenwich Arena, ExCeL exhibition centre in Docklands and the Olympic Park.
Baker Street, Kings Cross and Green Park Tube stations are expected to be very busy with spectators going to and from Wembley.