Olympics in London: civil servants, beaches and lycra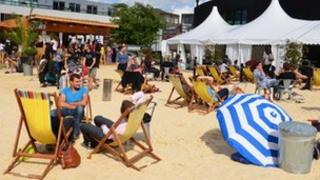 Two civil servants. On a beach. In Camden.
Could it get more surreal?
Yes, clearly. Because in the world of Olympic London these are but the undulating foothills of the bizarre.
And beyond them lie the far-off, snow-capped, mad-as-a-box-of-frogs peaks of the downright peculiar.
For what had this pair of valued governmental workers descended on north London's Roundhouse to witness?
A collection of lycra-clad superheroes with heads shaped like blobs of ice cream in a wind-tunnel zooming around a track made of imported Siberian Pine.
"I'd like to think we'll win," said Steve Aherne, 30, one of the civil servants. "But you never know..."
The lads were not to know the day would end in triumph for Chris Hoy and the rest of the men's sprint team.
But even before Team GB added its second cycling gold, Chris Bell, 32, was in awe.
A racing cyclist himself, he reflected ruefully: "I've discovered I'm not quite as good at cycling as I'd thought."
So why were these two stalwarts not in their offices, advancing matters of state?
"We've left work early," said Bell. "We're helping to reduce the footfall in central London."
The imposing form of the Roundhouse is where some of the UK's most legendary gigs have taken place: Hendrix, the Stones, Pink Floyd. A glance across the Olympic "beach" shows children playing, sand castles being hewn; and deck chairs - more Margate than Motorhead.
As Dominic Carter, 23, a jobless graduate, stretched out awaiting the sport, his contentment radiated palpably. "There could be worse times to be unemployed," he said.
"One hundred and fifty tonnes of sand in the middle of Camden. I've lived here all my life, but it's not something I've ever seen before."
But why choose this spot to watch the action? "It just feels a bit more 'east London', a bit cooler. Do you know what I mean," said Dominic's girlfriend Sophia McNab, 23.
A zoom down the Northern Line led to an Olympic viewing experience that was to the "Camden beach" what weightlifting is to water-polo.
The almighty BT big screens dominate central London's Hyde Park - but just getting in to see them was an a trial worthy of Hercules.
Once inside, however, and eased by a sudden flush of GB gold medals, the atmosphere was jovial.
"Wonderful, brill, great," said Josie Small, 38, a human resources manager from Birmingham who had brought her family down for the day.
"Three gold medals in a day is a bit more like it. We were beginning to get worried."
Chipped bark was underfoot, to forestall the traditional quagmire of the British summer event.
With the stalls, the sound systems and the big screens it felt like a cross between a more salubrious Glastonbury and an overgrown country fair.
"Jeez, what the heck is that racket?" Nicolas du Toit, 50, a businessman from South Africa, said as a performer screeched out the Chariots of Fire theme tune.
As if on cue a brisk wind began to blow over central London. People began turning their collars up.
If anyone was prepared, it was the mascots for the Olympic Games to be held in Russia two years from now.
The leopard, brown bear and hare standing guard outside Hyde Park looked quite unperturbed.
It was a timely reminder that - surreal as Olympic London can be - there is more to come, as the Olympic Family continues its serene and baffling progress around the globe.