Olympic transport coping despite Tube delays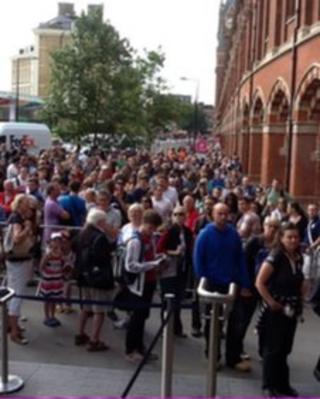 There are currently three rush hours in London: the usual two and then an extra one at 23:00 BST when the athletics kicks out.
Friday was meant to be the busiest day so far for the transport system and its biggest test.
The system certainly feels a lot busier now the track and field events have started.
It didn't get off to the best of starts as at 07:30 BST the Central Line had a signal failure and had to be part-suspended while engineers fixed it.
Trains were stuck in stations for about an hour.
There were undoubtedly some grumpy reactions from commuters, but spectators generally seemed to be in high spirits.
At the Javelin service at St Pancras International, there were huge queues right down to Euston Road at one point, but the crowd management system coped.
Crowd entertainment was laid on and Charles Horton, managing director of Southeastern railways, seemed to think it was going well.
Waiting times were about half an hour and some people re-routed from the Central Line, which got up and running again at about 09:30 BST.
One advantage of Stratford station is its 10 lines coming in and out - so spectators seemed to heed the advice and find other routes to the Olympic Park.
Another interesting point is the change in emphasis from Transport for London (TfL).
Privately I'm sure transport bosses are delighted how the first week has gone but the downside is some businesses are suffering as more Londoners have stayed away from town - perhaps more than anyone expected.
Olympic visitors seem to be venue-oriented and other tourists have stayed away due to a number of reasons: high hotel prices, high airline prices and transport fears to mention a few.
TfL is now promoting heavily the "plan your journey but enjoy London's attractions" message.
Deep down I don't think TfL will worry that much, though, as long as transport operates well for another week.
Predicting crowds and visitors is extremely difficult; perhaps the message was over-egged but there are honey pots of visitors in town at some places.
I'm sure TfL would much rather have it this way than have the system heaving at capacity.
The issue being Olympic tourists are not your usual London tourists - they have come for something very different.