Over 2,000 Games Lanes fines issued to motorists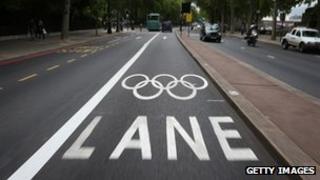 More than 2,000 fines of £130 each have been issued to drivers using the Olympic Games Lanes, Transport for London (TfL) has revealed.
Transport Commissioner Peter Hendy said in the first six days of the system being introduced on 25 July only warnings were issued.
TfL claimed the 2,400 fines was a "low" figure and meant the system had worked well.
Games Lanes are reserved for Olympic officials, athletes and the media.
BBC London's Transport Correspondent Tom Edwards said the method of initially issuing warnings was a similar tactic to when TfL introduced the Low Emission Zone in 2008.
He said: "TfL seems to be more interested in compliance and getting behaviour change rather than fining drivers.
"TfL issues 3,000 fines a day for non-compliance of the Congestion Charge, so in that sense it is low."
Garrett Emmerson, chief operating officer for surface transport at TfL, said: "The operation of the Olympic Route Network (ORN) and Games Lanes has gone well.
"We have no interest in unnecessarily penalising drivers and, with a very high compliance rate of around 98% to date, the overwhelming majority are following the requirement to stay out of Games Lanes when they are in use.
"In order to give drivers time to get used to the changes we've made to the road network we issued warning notices rather than penalty charge notices (PCNs) during the first six days of its operation.
"We are now issuing PCNs to drivers who contravene the ORN, but will continue to be proportionate and sensible; we're seeking compliance from drivers, not income from fines."
About 25% of the 30 miles of Games Lanes in London, which are intended to let athletes, Olympic officials and the media move quickly around the city, are now active.
The lanes are part of the 109-mile Olympic Route Network (ORN) where restrictions apply from 06:00 BST until midnight.